Creative Sound Blaster Katana V2 Review – If you've used your TV speakers for console gaming or small desktop speakers on PC, you're missing out a lot. Sure, you might feel amused by the PS5's improved graphics and all, but without quality sound support, you don't know what you're missing.
Creative Sound Blaster Katana V2 is an upgrade of the original Sound Blaster Katana. It's a tri-amped, multi-channel gaming soundbar with Creative Super X-Fi technology – or to put it simply, a compact soundbar with a dedicated subwoofer and included remote.
Despite its compact size (which is great) the sound is far from thin and I'm really happy to have it as the main sound system for our living room TV – both for watching movies and playing games on the PlayStation 5 & Nintendo Switch.
Creative Sound Blaster Katana V2 Review – What's in the Box and Package
Creative Sound Blaster Katana V2 Review – Design and Features
The Sound Blaster Katana V2 has a sleek, matte black construction (both the soundbar component and the subwoofer) that will look great on any type of TV or monitor. The new version also has more connectivity options and offers 68% more power than the original Katana.
But if you don't have the original Katana to compare it to (I never owned the original Katana), that's fine. Suffice to say, you should be pleased with both the aesthetics and performance of the Katana V2 here.
It's equipped with 3/4″ fabric dome tweeters, and the amplifiers inside are controlled by Creative's proprietary multi-core DSP to individually drive each of the midrange speakers, tweeters, and subwoofer. This degree of control allows Creative to optimize the sound performance and customize it to your preference, should you wish to change it.
There's also cool, customizable RGB lighting under the soundbar if you're into that sort of thing.
I like the compactness of the soundbar. At 62mm deep, it sits fairly flat on the desk and if you have your TV or monitor on a stand, the Katana V2 should still fit just below it without blocking screen content. The dedicated subwoofer also has a good cable length and can be placed further away from the TV or monitor.
In terms of connectivity, there are plenty of options here: HDMI ARC, USB-C, optical, 3.5mm AUX and Bluetooth. This versatility allows the Katana V2 to be hooked up to literally anything in your home – PC, Mac, game consoles (PS5, PS4, Xbox Series X and S and Nintendo Switch), mobile devices like phones and tablets , etc
To switch between connections, you can press the "Source" button on the top of the soundbar or use the included remote. Personally, I like how Creative has put physical controls on the soundbar itself, unlike their Stage V2. This makes it easy to reach without having to search for the remote. There are also buttons to change its sound mode, volume, and SXFI (which must be configured through an app or connected to a PC).
Katana V2 won't automatically switch to Bluetooth even if your device is connected and playing audio, but a quick mode switch does the job.
The included remote has all the controls you need for the Katana V2 and luckily works with the Apple TV remote. So I only use the Apple TV remote to change the volume while we watch Netflix and other video content.
Amazingly, there are two built-in beamforming microphones inside the soundbar so you can also make calls or join Zoom without needing a headset or desktop microphone to talk. Obviously this works best if the Katana V2 is clipped to your PC as it is closer to your mouth.
I haven't tested the quality of the microphone, but it's there and can be useful for those who don't own a gaming headset or have their console set up in a smaller room.
Creative Sound Blaster Katana V2 Review – Sound Experience
Our large TV in the living room was fitted with full-fledged audiophile bookshelf speakers from Focal and a dedicated subwoofer from AudioEngine. Although they sound big and room filling, we haven't turned up the volume since we have a new member in the family. Plus, it's hooked up to an Amazon Echo Link amp not supported by the remote, which was a nuisance as we couldn't control the volume from the couch.
Thanks to the remote control support on the Katana V2, we can use our Apple TV remote to control the volume of the soundbar from the couch. Additionally, the Katana V2 also turns on automatically when I start the Apple TV or PlayStation 5.
In all honesty, the Katana V2 certainly can't compete with the Focal Chora 806 and the AudioEngine S8. When we switched, we felt the difference as the sound wasn't as full and crisp as before. However, we adjusted after a few days and happy to put away our old bookshelf speakers and subwoofer and replace them with the Katana V2. The Katana V2's space saving and versatility of supporting different modes are just the highlights of the day. It's also more than enough for the size of our living room.
Sound-wise, Creative Sound Blaster Katana V2 is surprisingly loud and rich. Although it seems to be marketed for gaming, I also find it very, very good for watching movies. Note that our living room is 4m x 4.5m and the sound can easily reach all four corners of the room. Those with much larger rooms may want more, but that's hard without testing it myself.
If you plan on just using the Katana V2 on the PC, you'll find plenty of clarity, quality, and volume from both the soundbar and subwoofer. I realize that many people also connect their PS4 or PS5 to the same PC monitor via HDMI, so this is a perfect setup.
Creative Sound Blaster Katana V2 Review Conclusion
I felt left out when I couldn't review the original Katana, which received rave reviews on the net. And I'm glad the Katana V2 is even better than the predecessor.
The soundbar has a compact design, multiple connectivity options, and most importantly, the audio quality you crave in a soundbar for gaming and movie watching. Likewise, the subwoofer also has a compact, upright design that saves space under or beside your desk.
Creative Sound Blaster Katana V2 is the sound upgrade you don't need until you have it. It brings your game and movie audio to life, and the best thing is that you'll be able to connect it to all the gaming and other devices you have at home.
It retails for AU$499.95 and is available to buy now from Creative Australia's website and at many retailers in Australia.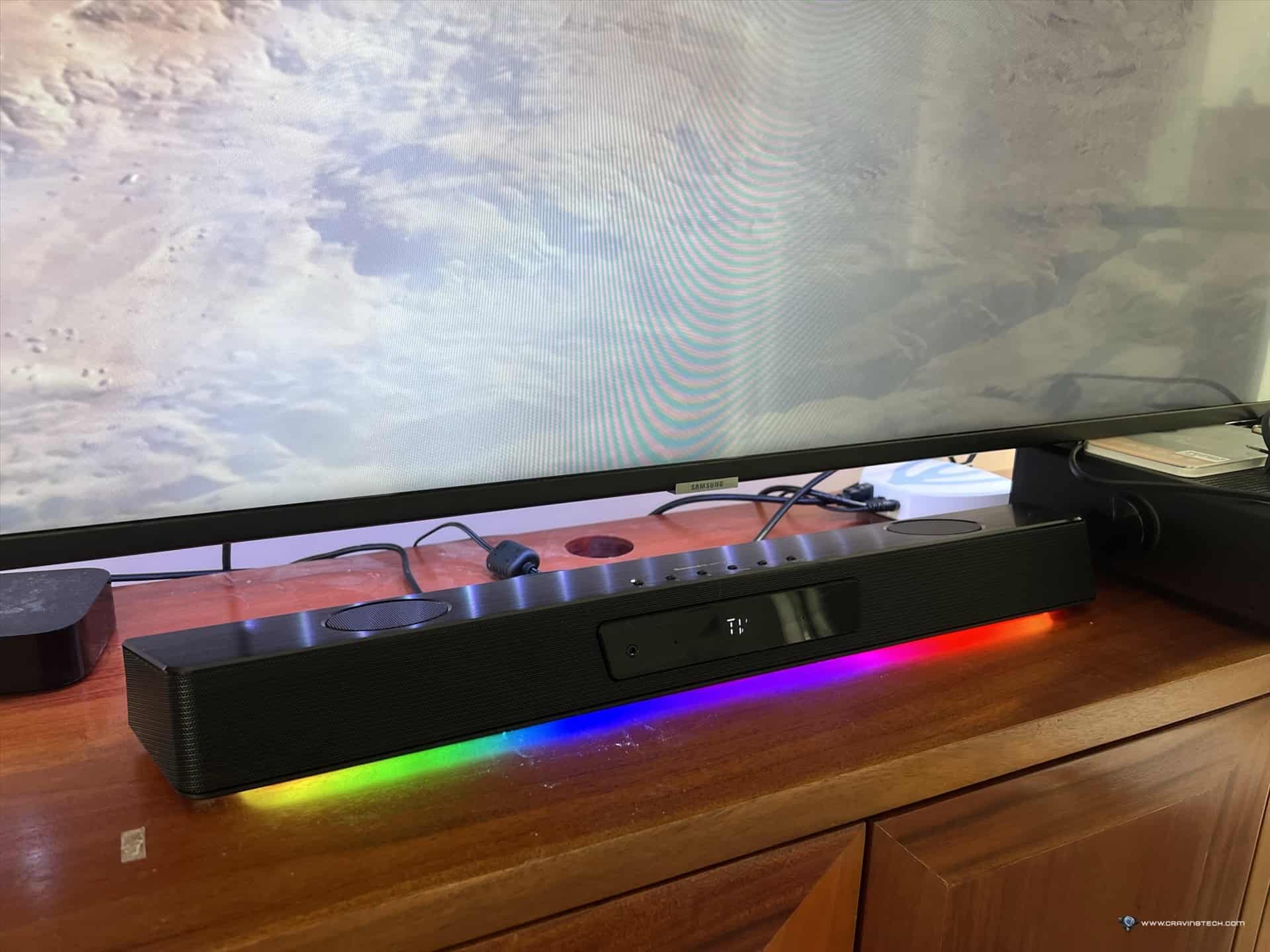 Disclosure: A Creative Sound Blaster Katana V2 review sample has been provided for review, but all opinions are my own
Creative Sound Blaster Katana V2 Review
Summary
A compact soundbar with dedicated subwoofer that offers multiple connectivity options and great audio quality that we all know from Creative Sound Blaster
Advantages
Compact design (both soundbar and subwoofer)
Multiple connectivity options including Bluetooth
Has physical controls on the soundbar
Remote control included, also works with Apple TV remote (via IR)
Loud and excellent audio quality
Customization and specific sound modes for games via app or PC
RGB lighting, for those who want it
The inconvenients
Can't stream Bluetooth at the same time, you need to manually switch to Bluetooth mode first
Pricing is somewhat similar to high-end soundbars
Probably not good enough for large rooms