Well, it's over. Last night marked the last day of the Barcelona edition of Primavera Sound 2022, and I find it hard to believe I made it. Despite being marred by organizational issues, the incredible amount of music – and I hope that's true for everyone who attended – more than made up for the chaos they caused. Of course, it was also overwhelming. "I think if I went to this festival, I would never listen to music again," Julian Casablancas said during The Strokes' Friday set, which may end up being the case. But given the amount of resilience required for the two weekends (plus the Primavera a la Ciutat week), I also got to thinking, Damn, I must really like this. It was also a reminder that I love listening to live music too. Last night was a final test of endurance, of course, and there were, as usual, some unfortunate scheduling conflicts, but it also featured plenty of unforgettable performances. Here, in chronological order, are six of them.
---
The weather station blends into the ocean (and techno music)
Tamara Lindeman walks onto the stage wearing a dress in different shades of blue: "I wanted to match the ocean," she explained, calling it her "Halloween costume." Beside her, the band (with OHHME's Macie Stewart on fiddle) are dressed in white, like clouds; behind them, the screen shows images of the sea, as motionless as the one in sight. It seemed like the perfect environment to showcase the lush, quietly soulful tracks from The Weather Station's 2021 album. Ignoring (and maybe this year How come I should look at the starsthough its intimacy didn't suit the full-band setup), and they integrated seamlessly. My GodI thought.
There's only one thing wrong with the whole show: dance music reverberated incessantly from a nearby stage, disrupting every moment of silence. "I meant all that," she said at one point, "but I'm going to keep playing." Later, she joked, "I wish I did music like that." The propulsive nature of his own music shines through as much as his unguarded vulnerability, and his voice is as beautiful as it is on record. Both 'Robber' and 'Atlantic' are remarkable, building with an intensity that leaves audiences thrilled; Stewart's solos in particular were amazing. You wanted them to keep playing until the only sound you could hear was their own.
The moon can't escape Arooj Aftab
At the start of her performance, Arooj Aftab remarked on how beautiful the view was from where she stood on the Ouigo stage on Saturday night. "We're trying to reinvent sad music," she explained, her set serving as a captivating showcase for her 2021 record. Prince Vulture. "Make it sexy, you know?" Her songs of nostalgia and melancholy – or, in her words, being "drunk and in love" – took on a quality of live transport, her breathtaking voice backed by two incredible musicians – "monsters", as she called them – harpist Maeve Gilchrist and bassist Petros Kampanis, both of whom have been featured on nearly every song.
Sometimes there were problems with the sound, which had an unsettling effect on the atmosphere; sometimes, however, the commentary almost unintentionally gave the songs a haunted edge. Whatever darkness they held was also balanced by Aftab's endearing sense of humor. "Damn, the moon's in the clouds now," she said, hilariously, before surprising us with her rendition of "Last Night." Every time I listen Prince Vulture, I'm still planning a summer scene at the end of the evening, and it seemed to me that the performance could have benefited from being scheduled a little later. It wasn't necessary though. Aftab knew exactly how to get us there: how beautiful, indeed.
At night, Sky Ferreira is not on time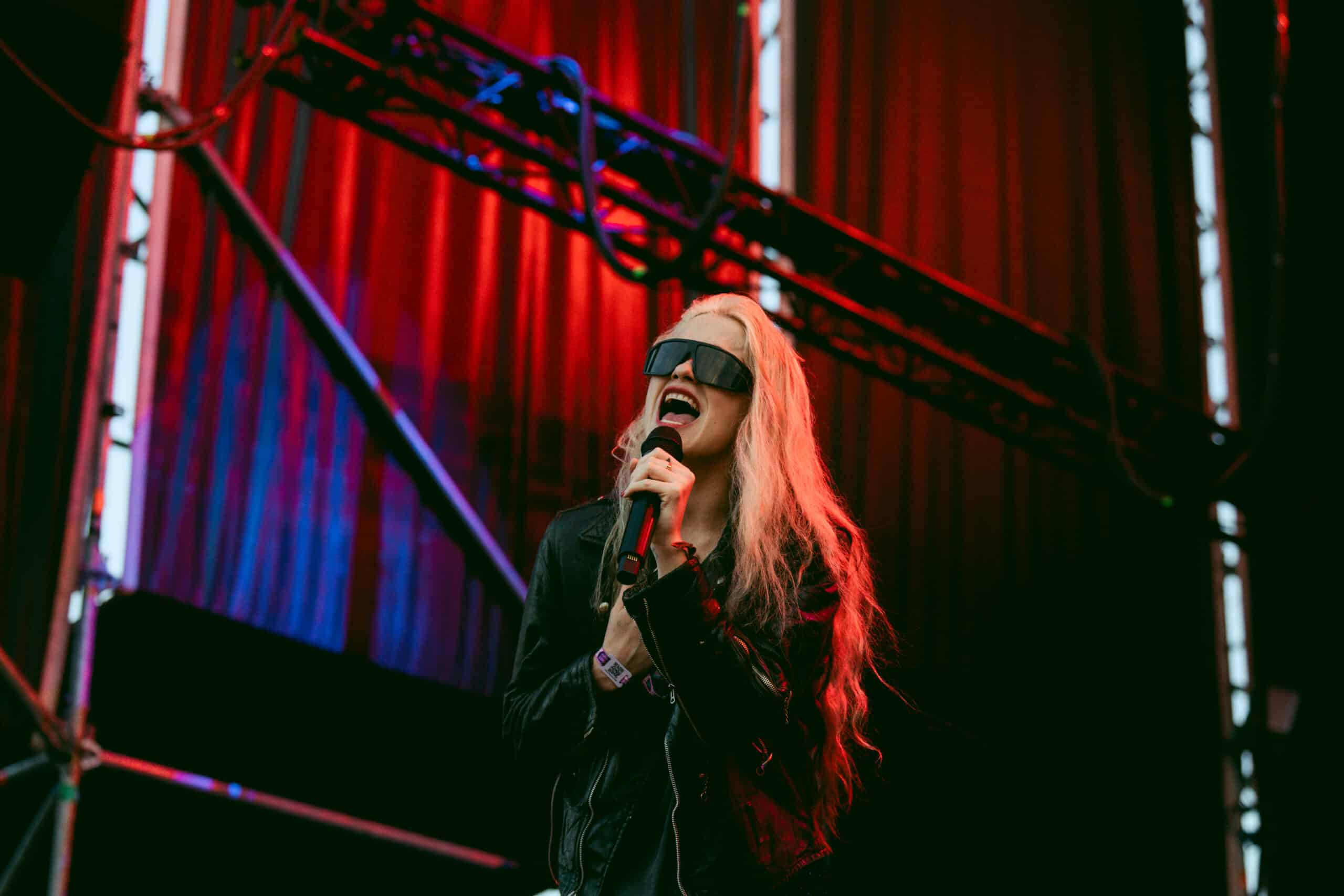 Sky Ferreira is renowned for its unstable and inconsistent shows. It's something she's embarrassed about, apologizing at the end of a song and calling the performance a waste. (It often did.) But they don't exactly happen very often. Her set at Primavera Sound Barcelona on Saturday was just her second in three years, following a recent performance at NOS Primavera Sound in Portugal (which reportedly started 20 minutes late), so you wouldn't want to miss a chance to catch her Live . This performance was not exactly an exception. She was late again (after her set time had already been changed at the last minute, getting closer to night), skipped the opening "Boys" after a false start and never returned to it, and her voice sounded often. The fact that this hasn't always had the effect of spoiling the experience has me wondering to what extent this is an aesthetic choice.
Fortunately, the songs of At night, my time that people yearned to sing — including "24 Hours," "You're Not the One," "I Blame Myself," and "Nobody Asked Me (If I Was Okay)" — sounded pretty good, as did the new single. 'Do not forget'. I wasn't exactly floored by the unreleased "Innocent Kind", which she had performed for the first time a few days earlier, or another titled "All My Lovers Die", which had its live debut here – at least in part, because she decided to drop that one too. After asking for extra time, Ferreira gave fans what they wanted with a rendition of "Everything's Embarrassing." It may have been a mess, but it certainly wasn't forgettable.
Not enough yeah yeah yeah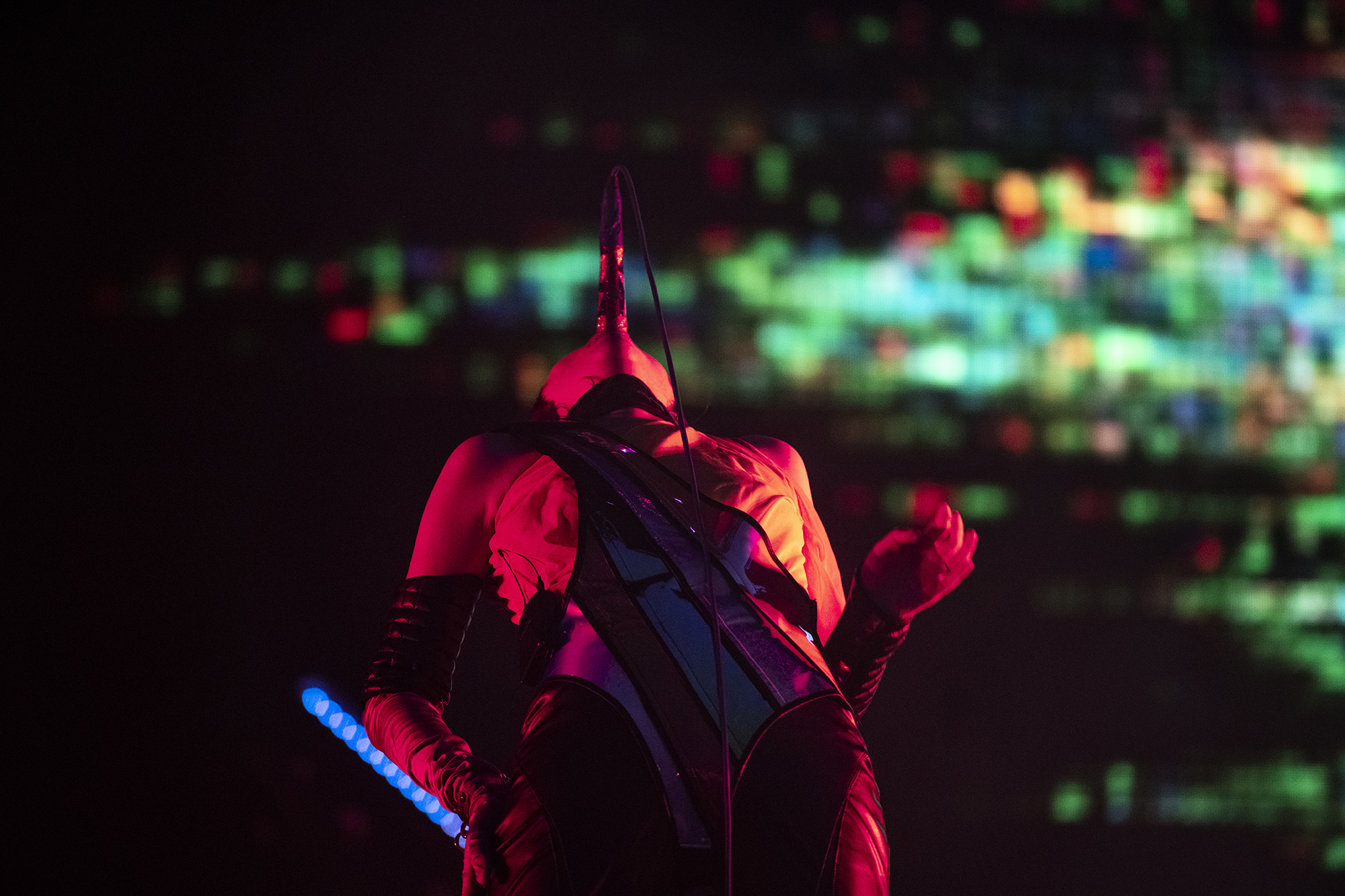 Many festival-goers were quite frustrated when Sky Ferreira's time change meant he ran into a part of Yeah Yeah Yeahs, and his overtime wasn't really helping matters. This meant that I only managed to see about half of the band's headlining performance, but I'm glad I did – it was also one of their first gigs in three years , arriving ahead of the recently announced announcement. cool it down, their first LP since 2013. I couldn't hear the super new single 'Spitting Off the Edge of the World', but after back-to-back performances of 'Gold Lion', 'Maps', 'Y Control', and ' Heads Will Roll', I could hardly complain. It was exhilarating, euphoric and provocative all at once, and I was convinced that Karen O is one of the most electrifying performers around (at one point she devoured that microphone). It's only recently that I've started to take a closer look at their discography, and it's not hard to see why they're known as one of the best live bands in the world. If you get a chance to see them on one of their upcoming tour dates, do it. Even if you get to watch the whole thing, I have no doubt it will leave you wanting more.
Jessie Ware steps into the spotlight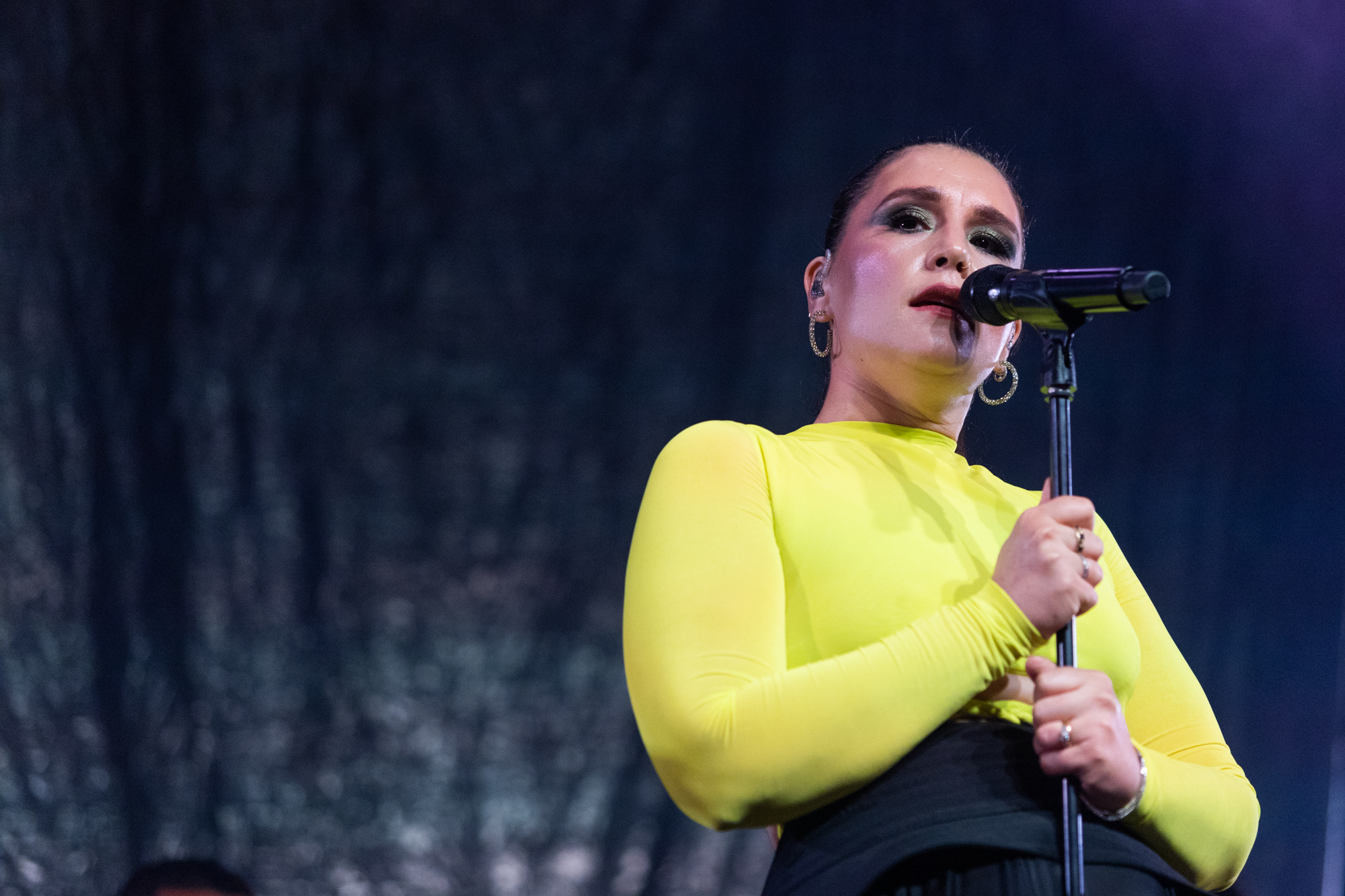 Jessie Ware has been waiting for this moment for a long time, as have her fans. Just before she took the Cupra stage on Saturday night, it felt like one of the most anticipated performances of the festival to me – which is saying a lot – and ended up being one of the most euphoric. It was an opportunity to finally present What is your pleasure?, one of many albums released amid the pandemic that leaned into escapism from disco — and also the best. Dressed in a turquoise dress and joined by a group of incredible dancers and singers, she delivered a performance that was both elegant and sparkling, even campy, but also oddly moving – with the full participation of the audience, it was hard to tell. ignore the emotion of these songs as much as their dance. That's why the beautifully evocative "Wildest Moments" – one of the few older songs she performed – still suited her set, reminding us that there was a fierceness to her music even when she was best known. to do casual R&B. But it was time for the throbbing beats and the relentless desire to What is your pleasure? to shine, and they couldn't have struck harder.
Megan Thee Stallion Gives Fans the 'Hot Girl Summer' They Deserve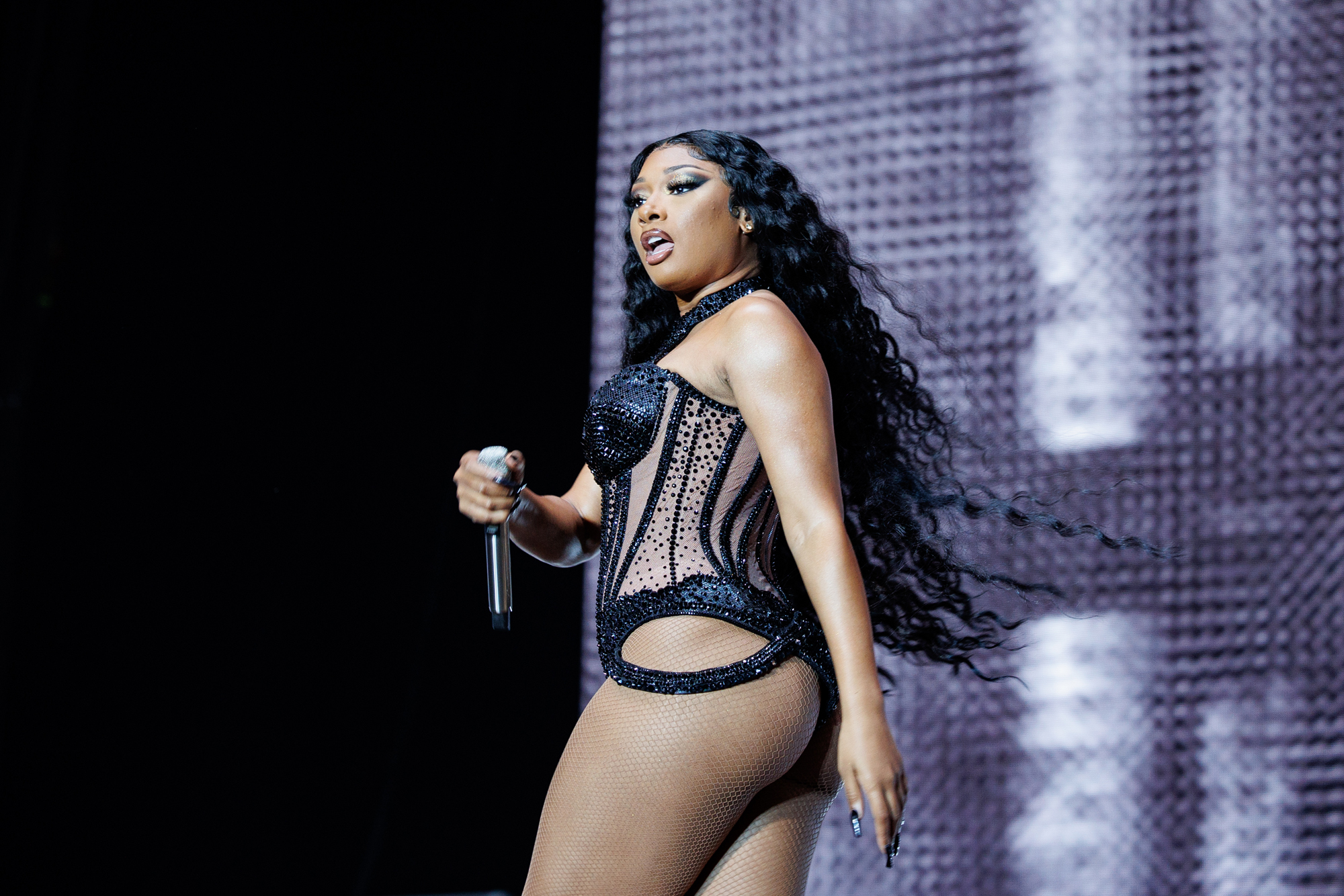 If you saw me witnessing a final show at Primavera around 2 p.m. last night, you'd think the headliner was Bon Iver, not Megan Thee Stallion. After ten days of non-stop live performances at the festival, I was struggling to keep myself going, let alone move my body in the ways that Megan's powerful and energetic hour-long set demanded. But everyone certainly did. As she cycled through hits like 'WAP', 'Body', 'Hot Girl Summer' and 'Savage' – as well as the recent 'Sweetest Pie', although not bringing headliner Dua Lipa on stage was a missed opportunity – the performance exuded body positivity as her self-confidence spilled over into the crowd, which in turn excited her and bounced off every song like it was the first and maybe the last summer hot girls. It was a powerful way to end the festival – it felt like the season was just getting started. Maybe next time it won't look like I, I is my idea of ​​a "crazy energy" summer record.